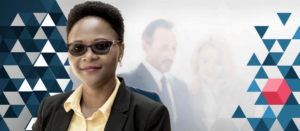 Nosisa Nzuza is a South African entrepreneur and the CEO of Siyathembana, a property investment and development company that specializes in township retail and commercial properties. She is known for her work in the property industry and for her efforts to transform the townships of South Africa by providing access to quality retail spaces.
Nosisa Nzuza grew up in the township of Umlazi, outside Durban in South Africa. She holds a Bachelor of Commerce degree from the University of South Africa (UNISA) and a Postgraduate Diploma in Management from the Wits Business School. She began her career as a consultant for Deloitte, where she worked in the audit and consulting departments.
In 2009, Nosisa Nzuza co-founded Siyathembana with her business partner, Sisa Ngebulana. Siyathembana focuses on developing and investing in township retail properties, with the goal of creating vibrant commercial spaces in underserved areas. Under Nosisa Nzuza's leadership, Siyathembana has grown to become one of the leading property development companies in South Africa, with a portfolio of retail properties across the country.
In addition to her work with Siyathembana, Nosisa Nzuza is actively involved in promoting entrepreneurship and economic development in South Africa. She is a founding member of the Women's Property Network, which aims to promote the advancement of women in the property industry. She is also a member of the South African Property Owners Association (SAPOA) and serves on the board of several other organizations.
Nosisa Nzuza has received several awards for her contributions to the property industry, including the Top Young Executive Award from the National Business Awards in 2014 and the Women of Substance Award from the Businesswomen's Association of South Africa in 2015. She is widely recognized as a trailblazer in the South African property industry and a role model for young entrepreneurs.